Kanuhura Maldives - Part One
I first visited the Maldives when I was 19 years old, having just started my nannying career and was looking after a new born baby - 24 / 7. As you can imagine I wasn't really in the mindset to soak-in my surroundings, mind, body and soul! I was exhausted! For that reason, Maldives was HIGH on my list to visit again. This time, through my Instagram; which I never imagined 12 years later, I would be doing - ALL thanks to you guys following me!
The Maldives is a tropical nation in the Indian Ocean composed of 26 ring-shaped atolls, which are made up of more than 1,000 coral islands. We all know from photos that the Maldives looks like unfettered paradise, long sandy beaches, blue lagoons and extensive reefs with crystal white water, however the reality of actually walking along those beaches, really is a 'Utopia' moment! If you have the opportunity, PLEASE go. I urge you.
Although the Maldives is pretty busy all year round, most hotels we stayed at were at 40-60% capacity, and it was said to be quiet season as there is a little more rain than usual. We didn't see one drop of rain… so I recommend visiting around March / April.
During our time in the Maldives, we visited Kanuhura, The Westin Mirandhoo, Vakkaru Maldives and lastly Velassuru - please click the names for which article you'd like to read.
Below, I am starting off with Kanuhura, a stunning luxury resort a short sea-plane flight from Malé, the main capital of the Maldives.
Once landed from the UK feeling very tired and dishevelled, Kanuhura representatives were there ready to escort us to the the sea plane terminal, where we were then shown their private airport lounge. We were fed, given a smoothie and a cold towel, pure luxury after a long-haul flight! With our tummies full of excitement, we were told our flight was ready and we set off to Kanuhura .
For someone with a slightly bohemian spirit, and a taste for ethnic modern luxury, Kanuhura was beyond all my expectations. The interior was sophisticated and beautiful! Arriving to drums playing and staff waving, I knew we had arrived to a 5* luxury resort the moment we stepped off the seaplane!
With over 350 staff and 80 villas and the resort being at 50% capacity, we genuinely felt like the only people in the world being taken cared for by the exceptional staff members.
We were initially given a beach bungalow for one night, which was divine - however, I was over the moon with excitement when on the second day they moved us to one of their iconic overwater villas! Kanuhura has both beach bungalows with pools and watervillas with and without pools, ours didn't have a pool - but who needs a pool when you have the ocean as your bath tub!?
Each villa and suite are dotted along both sunrise and sunset side of the island, all sharing the epic turquoise lagoon and the perfect Kanuhura beach. Our overwater villa was the sunrise side of the island, which I loved! Being an early riser myself, I woke every morning to enjoy a cup of tea watching the sun rise over the Indian Ocean. Total BLISS.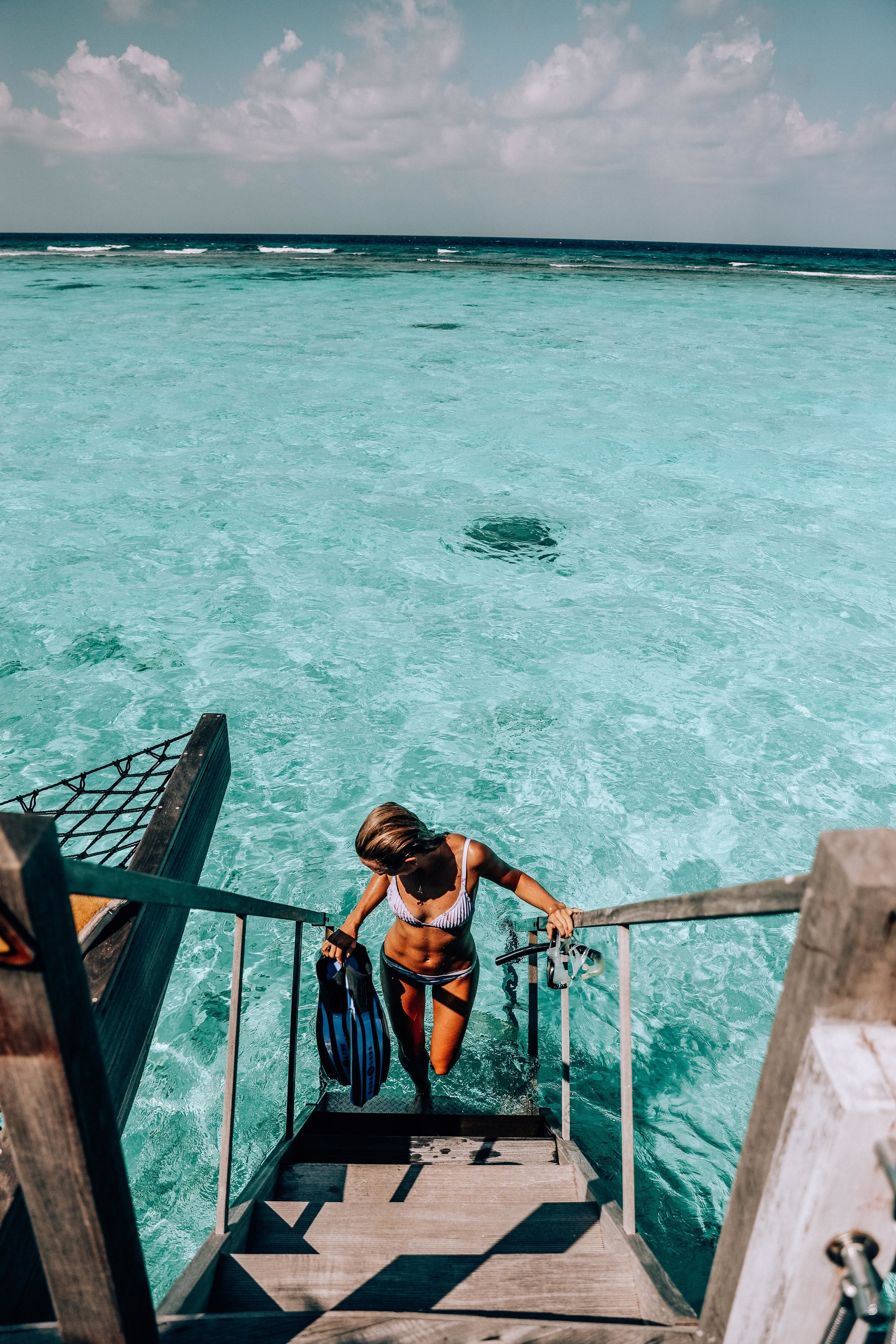 You're given a set of snorkelling gear, to swim with everyday!
The resort is packed full of water activities, from diving, sailing, snorkelling, two floodlit tennis courts, kayaking, paddle boarding, games room and sunset cruises. Unfortunately, I don't have my padi diving (still I hear you say), so I couldn't go with Will for the morning - although he said it was incredible, sighting giant sleeping turtles, eagle rays, manta rays and a selection of colourful fish. Unfortunately, our go pro doesn't go below 20 metres, so it was only his eyes that could capture footage of the underworld!
One evening we were taken out on a sunset cruise with a selection of guests; we spent 2 hours drinking champagne listening to locals sing, whilst watching dolphins play on the bow of the boat! An unforgettable, romantic experience.
The best mode of transport…
Kanuhura has long been regarded for its exceptional cuisine and extensive variety, offering 8 exquisite culinary experiences throughout.
A Mano - all day dining

Bottega - Italian

Deli - afternoon tea

Drift - Island Grill

Veli - Asian Fusion

Cowry Club - Pool bar and snacks

Iru - Sunset beach bar and nibbles

Herb garden - demonstration available with chef
Will and I LOVE asian cuisine, so Veli was our favourite restaurant! Every night the resort have a different activity available on offer at the restaurants (additional cost), whether it's cocktail making, sunset rosé or rum cigar and marshmallow tasting!
SPA & FITNESS
Kanuhura has a stunning holistic spa called Kokaa, derived from the name 'Butterly' in Dhivehi - which aligns with their bohemian spirit of embodying the grace of a butterfly. We experienced a spoily full body couples massage, where we chose from their extensive spa list they have on offer! Click here, to view menu. Kanuhura also offer a different amount of wellness activities such as yoga, yalates, warrior workouts and pilates.
Final breakfast on our deck..
On our last evening the resort set tables for all guests, there was a live DJ, open bar which served champagne and cocktails and the most delicious three course meal, all sat with our feet in the sand!