Top Instagrammable Locations in Bermuda
"You can go to heaven if you want to. I'd rather stay in Bermuda" - Mark Twain
As many of you know and maybe even started following me whilst I lived there, I moved to Bermuda with a wonderful family I was nannying for and went on to spend 2 years there. I LOVED Bermuda and it will always have a very special place in my heart. Today, I'm going to share my favourite spot's on the island, which are very instagrammable!
Although many people mistake Bermuda for being a Caribbean island, it's actually in the middle of the Atlantic ocean - which means a different temperature to the Caribbean! Although Bermuda's climate is similar to a tropical island, it does get quite cool in the winter, ranging from 15-20 celsius. Which consequently means the ocean get's cold too! You won't see a Bermudian in the Ocean after November and not swimming again before May! Weirdly, Bermuda was my favourite in the Winter, you wouldn't hear me say that about England, ha! For some reason, the Ocean looked extra blue and it was quiet because people don't tend to flock there due to the temperature change.
Front Street is in the centre of Hamilton - which is the international business hub of Bermuda. Hamilton is full of restaurants, pubs unique boutiques, souvenirs, hairdressers, banks and offices. If you're looking for any trinkets to take home with you, then this is the spot - my two favourite souvenir shops were Flying colours and the Island shop.
During the summer season, every Wednesday evening there is an event called Harbour Nights - here you can see the lively Gombey dancers amid street food, activities for families and local artisans selling beautiful pieces.
I loved shooting photos on front street, the cute post office, the yellow Irish linen shop and the conductors bird cage are all instagrammable!
One of my favourite candy floss coloured building in the heart of Hamilton.
Make sure you visit this cute alley on Chancery Lane. It's very pretty at night.
Hamilton Princess, my favourite Pink Palace! This hotel obviously made the cut for one of the most instagrammable hot spots in Bermuda! Hamilton Princess is in the centre of Hamilton and was one of my go-to places (on a daily basis)! If you'd like to read further on this hotel, please click here.
Not only is this hotel pink, there is also a photo to be had in all corners! Check out their amazing instagram account for inspo and if you're in Bermuda, it's worth a visit. They have 3 wonderful restaurants and every evening in the summer months host a 'Marina Night' every Friday with live music.
The best way to see the Island is by a Twizy! You can rent these from the Hamilton Princess. They're 'around' $100 a day to rent.
Warwick Long bay is ranked as the Island's longest beach and is a magnificent half-mile long, it is the epitome of a pink sandy beach! There is a little sandy trail you can take to the right of the beach, where you will reach Jobson Cove and then further beaches if you keep walking. This place is surrounded by rocks and trees and is the perfect escape from the ever so busy, Horse Shoe bay. If you climb to the top of the jiggered rocks, you will find the perfect Instagram spot.
Flatts is a small sleepy fishing village located in Hamilton Parish halfway between the centre of Hamilton and the town of St. George. Whilst in Flatts, I would suggest going to Village Pantry for brunch/lunch, having a wander around the aquarium and getting an insta-shot on the pier looking over the idilic houses, then move onto St. George's for the afternoon. If you don't fancy a healthy lunch and crave a delicious pizza, then visit Rusticos instead! Please have the salmon pizza for me ;)
Cute corner in Village Pantry for a shot…
I love this little pedestrian foot bridge, it's on Verdmont Road - next door to Flatts Village.
St. George's was one of my favourite spots to shoot and every time I went back, I found a new corner or house I hadn't seen before.
Things to do; eat a fish sandwich, buy an ice-cream, go inside the oldest surviving Anglican church outside the British Isles then meander around the little cobbled streets until your feet hurt, you won't be disappointed!
My favourite alley in St. George's, make sure you keep an eye out for it!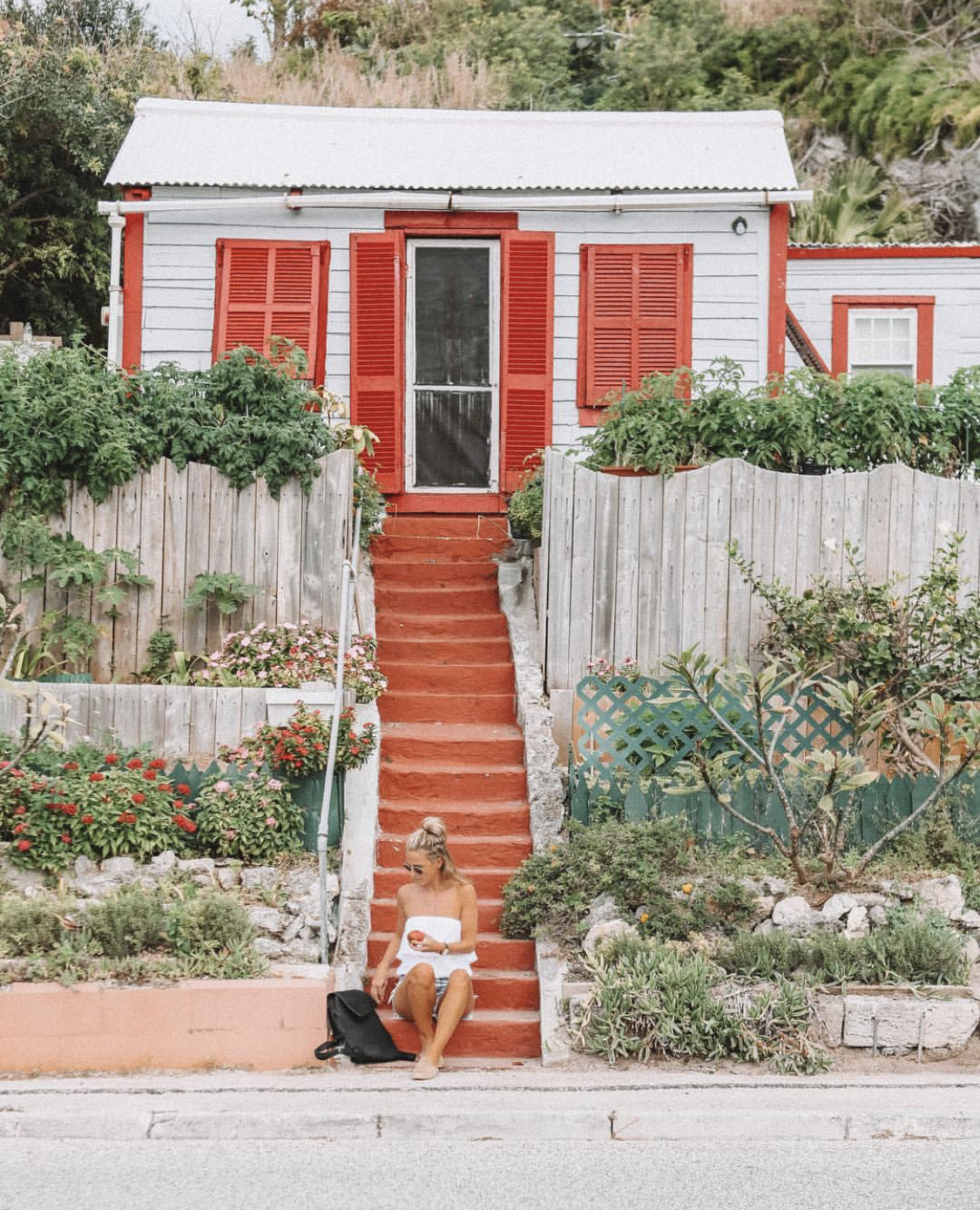 Try and spot this little house as you drive into St George's, it's worthy of a photo.
Abott's Cliff sits high above Harrionton Sound, which in my opinion gives you the best seat in the house. Make sure you go when the weather is good and there isn't much wind. I suggest taking a picnic, so you can soak in the view with glass of wine, whilst the sun is setting over Bermuda!
Type these coordinates into your google maps, and you'll find your way to the cliff! Park your car around Claytown road and then walk the rest of the way, keep walking through the wooded area until you get to the cliffs and the epic view.
Although this isn't my first choice of beach to visit whilst in Bermuda, unfortunately Horseshoe bay can't be missed! I only go there to climb the cliffs to enjoy the view.
If you don't like heights, then I wouldn't recommend the climb to the top and although I found it safe and easy, there is a sign saying 'beware of slippery rocks, don't climb'. So please take care of YOURSELF!! If you're lucky with the time of year you visit, the tide might be ALL the way out. Which means you can climb to the other side of the cliffs!
This was in November, weather was much cooler - but no one there! DREAMY.
If you're driving along the North Shore, pull over and walk over the Devonshire Footbridge, I love the views and it's perfect for a photo. You will also see a precious little gate leading to some incredible rocks and an ocean view!
The Devonshire Bridge is on the Railway trail, if you keep walking, you can see where the hidden gate is on the left.
Overlooking an epic view!
The other side of the gate!
If you feeling like climbing some rocks, walk through the gate to get this shot! Please be careful, they're sharp.
This beautiful beach is called 'Hidden Beach', although I am not sure it's very hidden anymore (hope I had nothing to do with that- eek)! It's not very well sign posted and is little walk to get to from the car park. I went once in September and the tide had created some beautiful rock pools which was amazing to swim in. Unfortunately, every time I went back to hidden beach, the rock pools weren't there! Either way, it's a stunning beach and wort a visit.
This insane rock pool was formed!
The turning off to the beach is opposite The Royal Bermuda Regiment, drive all the way to the bottom and you'll see a car park. Once parked, walk to the gate by the dirt track. Keep walking until you see the beach on the left. You'll need to climb some rocks to get down.
Admiralty House Park is lovely! I use to go there nearly everyday for my lunch. It has it's own little beach, a cave and perfect cliff views. You may get lucky and see some cliff jumpers! I wouldn't dare throw myself off this cliff, it's too high and I would stress about getting back in with the tide. However, it's an incredibly popular activity on the island.
Make sure you check out the little cave, which is at the left of Admiralty park.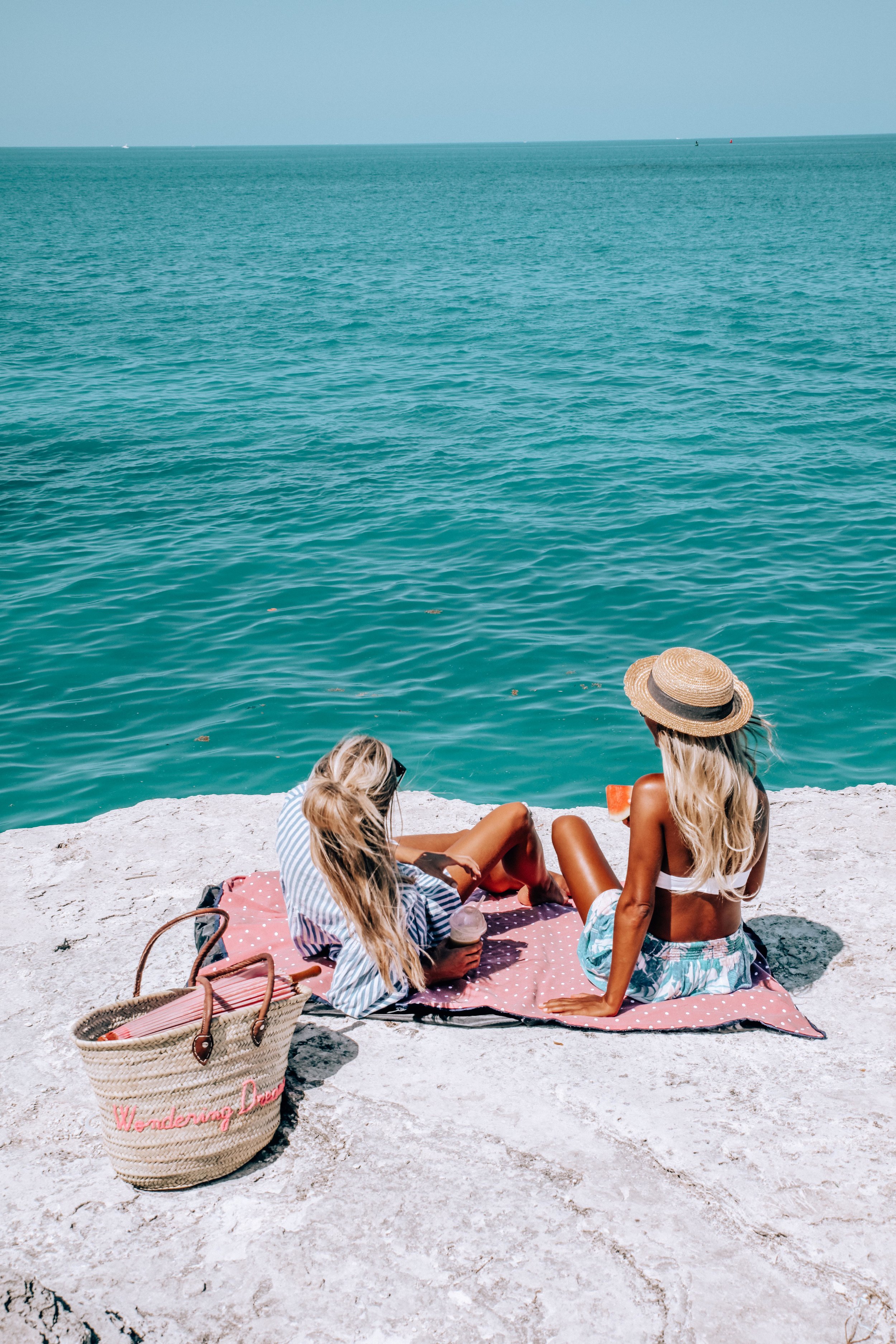 When driving to Admiralty House Park, stop to get a shot at this cute corner! It's quite fitting don't you think?
Blue Hole Park is an incredible nature reserve in Bermuda, so if you fancy jumping off a 'little' cliff into a blue lagoon (this one I can do) - this is where to do it! There are stunning mangroves and caves all around this blue hole, so you could easily spend a few hours there - so bring snacks! I loved this location for shooting photos .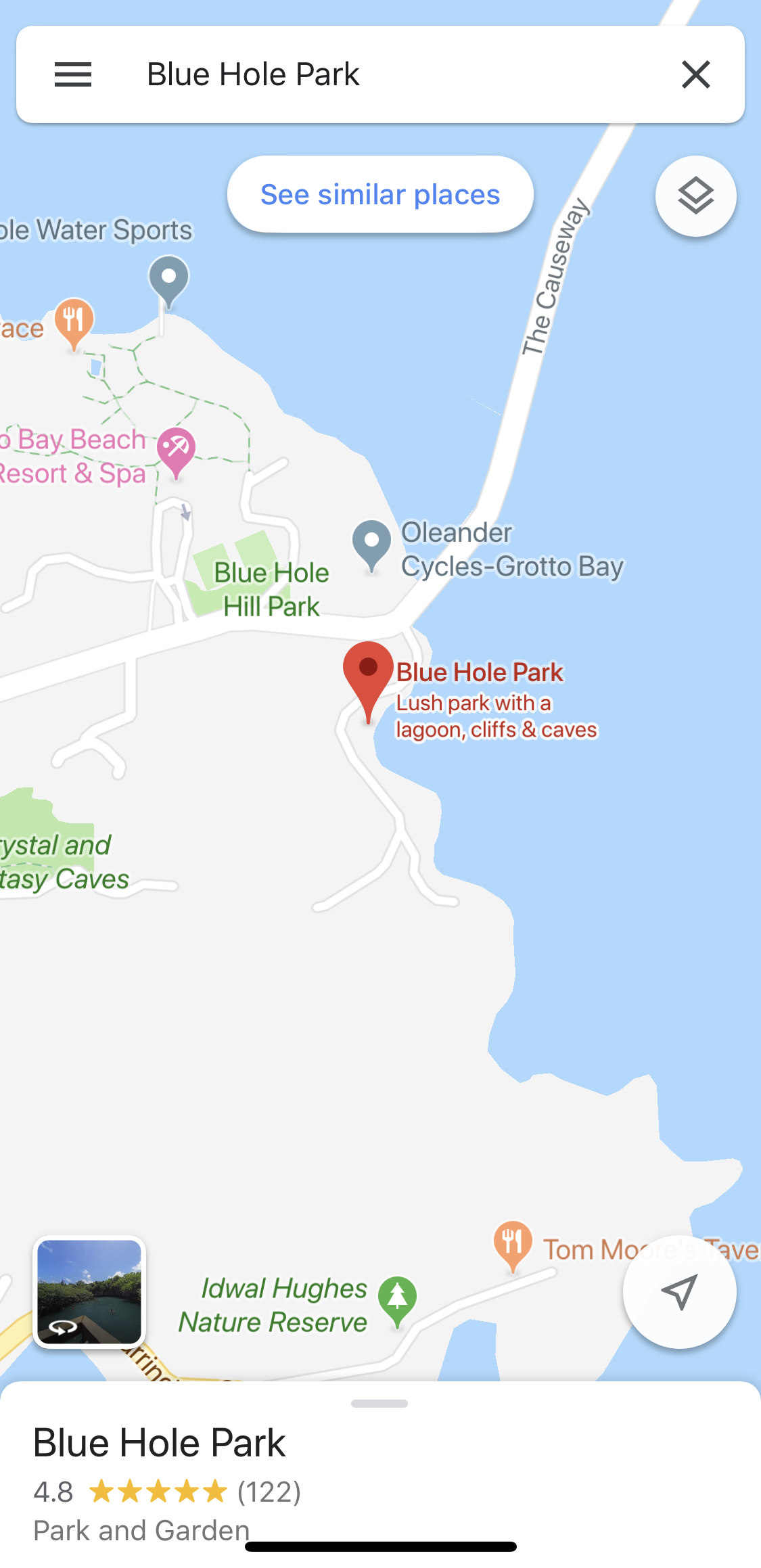 This lagoon is on google maps, however it's not as close to the road as it looks on the map. You need to park by the road and walk through the wooded area, past wonderful mangroves to the blue hole. Basically keep walking until you get there!
Coopers Island Nature Reserve is in St David's and is probably the most untouched part of Bermuda (in my opinion). I am unsure to whether buses run all the way to Coopers, so it might be worth renting a twizy or a scooter to get there.
Once you hit clear water beach, you will need to find somewhere to park and walk the rest of the way, as you can't drive into the nature reserve.
Coopers island is FULL of beautiful instagram locations, wander around the whole nature reserve and you'll see what I mean! If you walk to the end of the island you will see an old observation tower.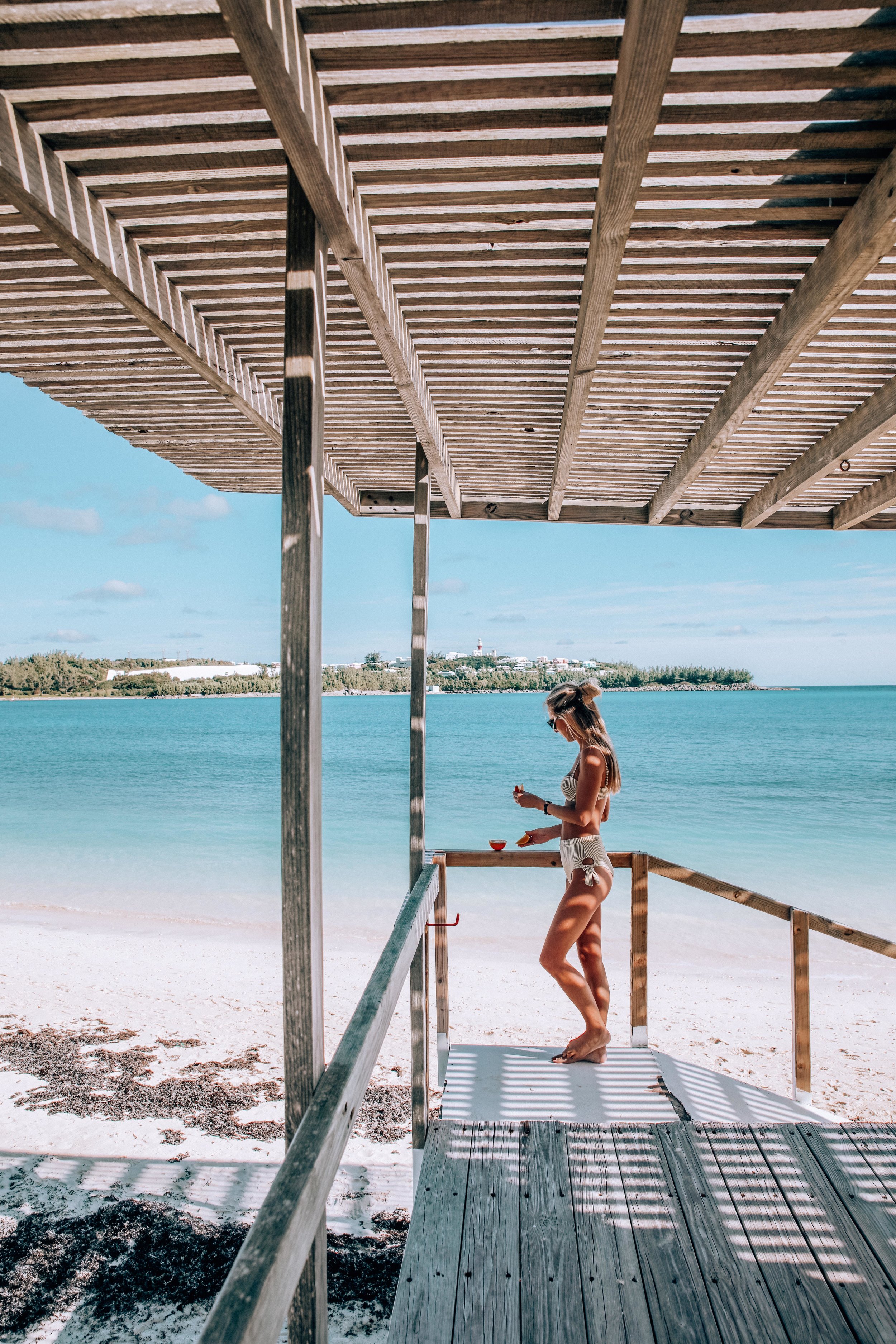 See if you can spot this lifeguard hut on the beach, it's the perfect place for a photo…
Type Coopers Island into google maps and park where my pin is! Then walk the rest of the way…
En-route to Coopers Island, stop at Bailey's for an ice-cream (all being it's open, the hours always baffled me!)
Palm Grove Gardens, belongs to a beautiful estate, however these gardens are open to public from Monday - Thursday, from 9am to 5pm and they're definitely worth seeing and photographing! The whole garden is immaculate with cute bridges, palms, statues and a pond in the shape of Bermuda.
The pond which is shaped like the Bermuda!
If you feel up to a little exploring… walk to the bottom of Palm Grove Gardens to these Salt Water pools overlooking the ocean! Their not exactly Bondi Salt Water pools in Sydney, but they're still great ;)
Ely's Harbour - was one if my favourite spots for a swim. Unfortunately if you haven't got access to a boat, it won't be possible to get there. To be honest, if you're in Bermuda for a short time, I recommend hiring a boat or chartering one for the day - it's WORTH it. Some of the most amazing places are only accessible by boat.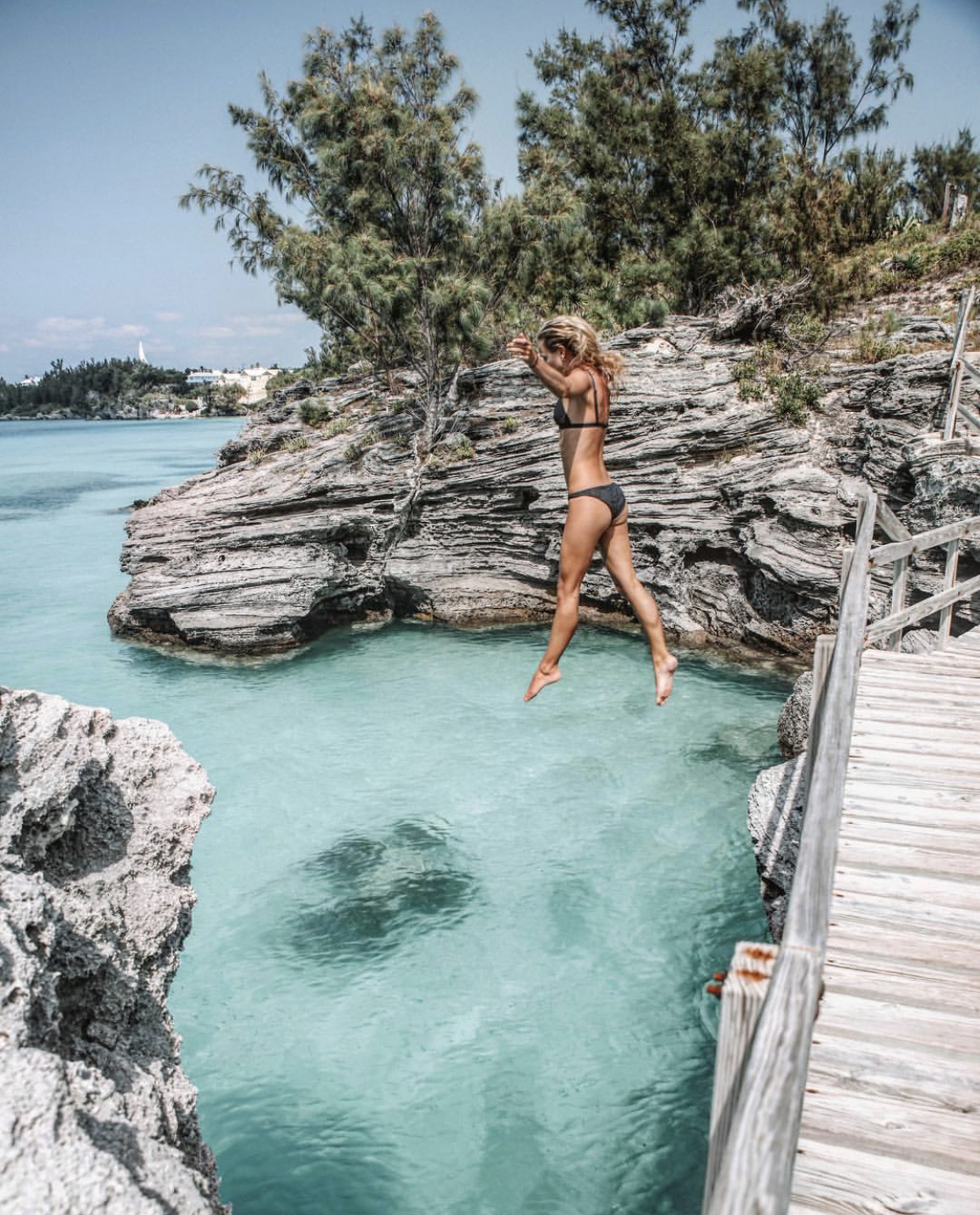 You are able to pull your boat up to a pier in Ely's Harbour for a swim.
Tobacco Bay is in St Catherine's, you have to drive past St George's to get there. Tobacco bay is definitely one of the most popular beaches on the island as it's very good for snorkelling. I just loved how the rocks were so defined here and there were dozens of photo opportunities.
Next to the beach is Fort St Catherine's - one of the most impressive forts in the island and definitely worth checking out whilst there.
This shot was taken by one of my favourite local photographers on the Island @meredithandrews.
One of my first Instagram posts
See if you can find this spot in St Catherine's..
See if you can spot this house by the water… it's near the Bermuda Underwater Exploration museum.
These phone boxes are in The Navel Dockyard - which is definitely worth a visit.
That's it folks! Hope you check out all my favourite Instagram spots if you visit Bermuda.
Be sure to tag me if you do and use #wonderingdreamersquad! '
Big love,
Jess x
The Wondering Dreamer