Wyndham Grand Crete Mirabello Bay
For the last few days, I have been staying at the beautiful Wyndham Grand Crete Mirabello Bay which is one of the 9,200 hotels that belongs to the Wyndham Rewards Loyalty Program. There are 20 brands under Wyndham Rewards in over 80 countries worldwide. You can earn points by joining the Wyndham Rewards Loyalty Program and using their hotels, and then can redeem points by using them on airline miles (with partnered airlines) or online shopping in many UK retailers!
If Crete isn't on your list of places to visit, then do have a look at the other 9 Wyndham Hotels on offer in Greece, although you won't be disappointed by Wyndham Grand Crete Mirabello Bay .
This lovely hotel sits in the verdant hillside of Lassithi and is a short 5 minute drive to the adorable Cretan town of Agios Nikolaos. The hotel is newly renovated and opened it's doors in February 2019.
The hotel has 311 guest-rooms, bungalows and maisonettes, which have all been designed to a high standard of comfort and luxury, with all the necessary amenities you look for in a 5* resort. We were staying on the 6th floor in a double room, with an enormous balcony overlooking the wonderful Cretan sea.
Elegant, neutral and luxurious.
Wyndham Grand Crete Mirabello Bay is a family-friendly environment, so if you're looking for a hotel in Crete and you have children - take this hotel into consideration. There is a kids club which operates daily a children's paddling pool and not to mention the sea and the secluded little beach. It's one of those hotels that caters to every person, whether you're a solo traveler, a couple, on a business trip, family holiday or maybe you need to host an event - the hotel can cater up to a 1000 guests and has over 12 multi-function rooms available.
The one thing I enjoyed about this hotel, was the ample amount of space it offered and although the hotel was 95% full capacity, it didn't feel like it at all! There was always a sun bed available and one of the rules I loved was their 'no reserving a sun bed without actually lying on them'! These signs should be put in every hotel around the world.
Wyndham Grand Crete Mirabello Bay has five restaurants on the property, Sirens being the main buffet restaurant (also breakfast buffet), Elia which is an A-la Carte Italian, Kafenion which serves Cretan mezze, Il Patio Restaurant which serves toasties, and then finally Grill House offering meat and fish from the grill! Elia was our favourite at the hotel, I LOVE Italian food but the food there was exceptionally fresh and delicious. There are also 5 bars on the property, New Thea Lobby bar which has scheduled local musicians playing in the evening, Mermaid Yacht Beach club, Asterias Wet pool bar (swim up), Tropical Beach bar and Dolphin Village pool bar.
The one area the hotel could possibly work towards improving, would be reducing the amount of single use plastic on site. I know it's very hard for hotels to move away from plastic, it's a slow process; but, perhaps a small movement such as replacing the plastic water bottles, which are so readily available, to reusable glass bottles. Particularly as tap water is drinkable at Wyndham Grand Crete Mirabello Bay.
This is an area the hotel could perhaps work towards, to ease us eco warriors! ;)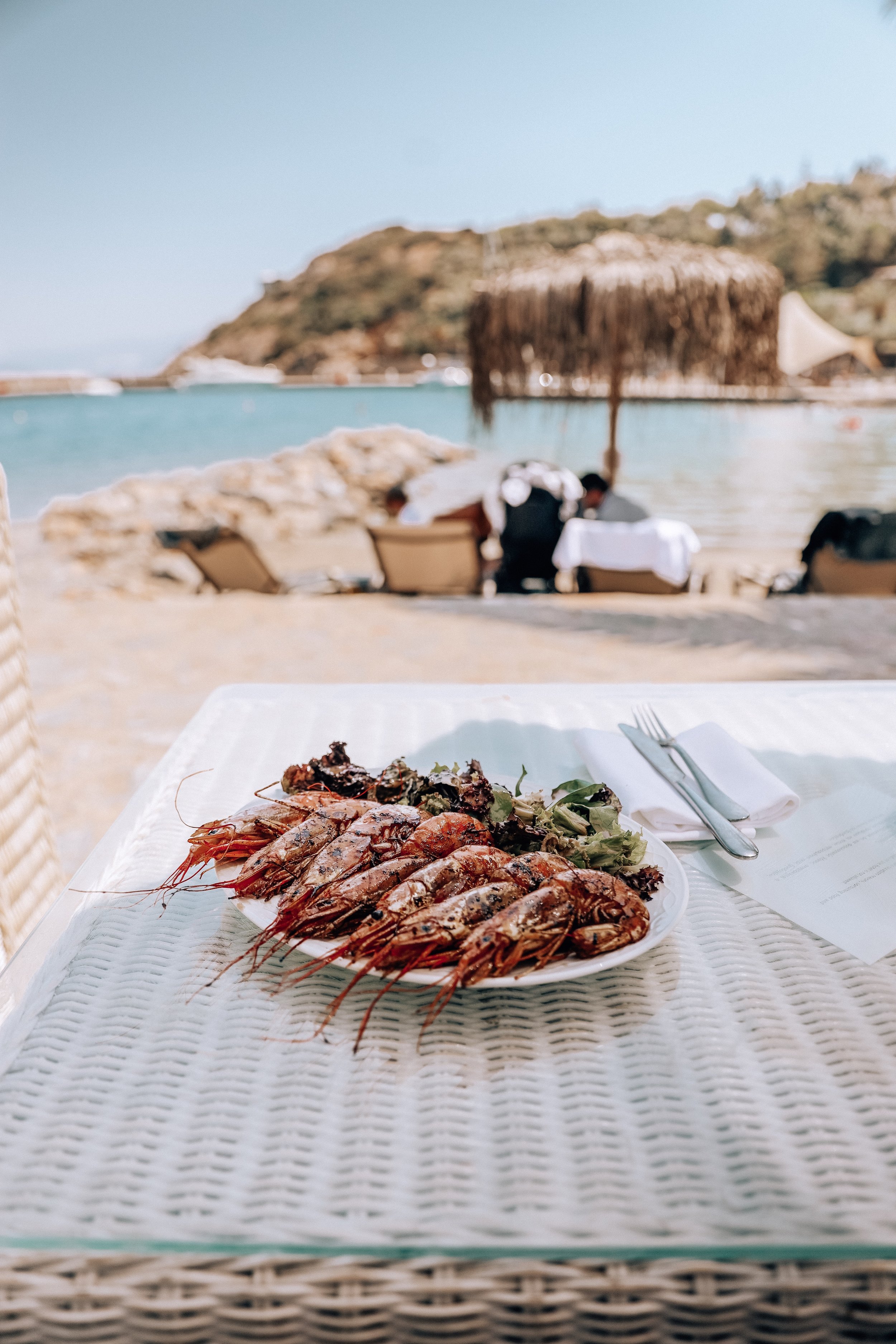 The most delicious grilled shrimps on the beach for lunch..
All guests get given a complimentary 15 minute massage at the spa, which you can then extend at a discounted price - a very good incentive and a VERY good massage! There is also a gym, tennis courts, water-sport activities and excursions available.
Agios Nikoloas Town
This cute Cretan town has three faces to the sea, Voulismeni lake and Port, Kitroplatia beach and the Marina - which makes it very unique. Voulismeni Lake which is connected to the sea by a narrow inlet is the perfect place to sit for a cappuccino - we went to Zygos Urban Garden.
Have a meander down the narrow streets of the town, where they're shops which sell a wide range of handmade woven fabrics, china wear and clothes. You also have the normal tourist shop with overpriced shells and magnets, but that's pretty standard in any tourist town!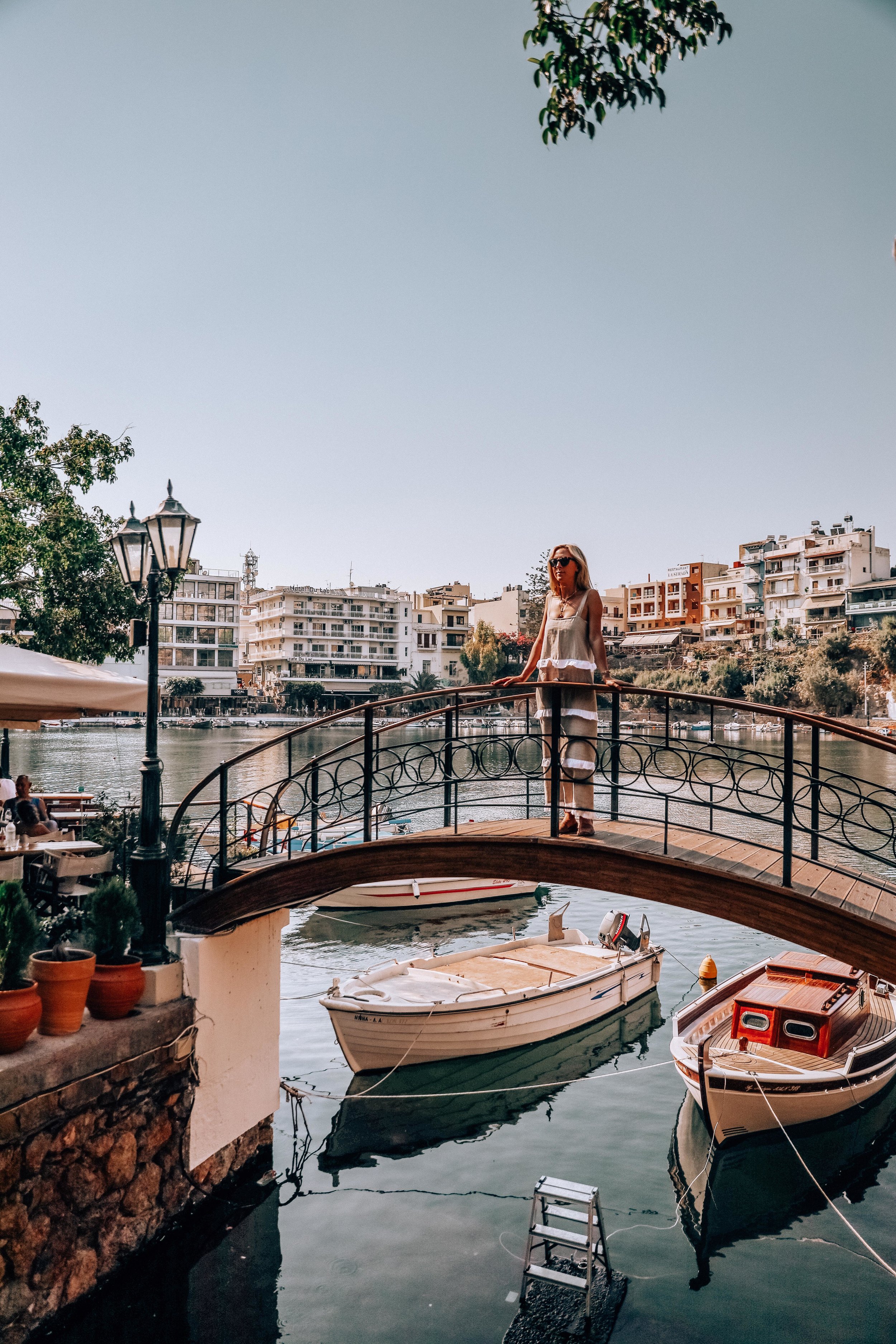 Photogenic bridge at this restaurant looking over the Lake in Agios Nikoloas Town.